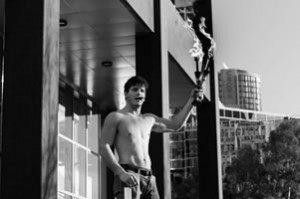 Celebrations for New Year's Eve Melbourne are normally spread out at various locations around the city.  Some NYE events are taking place along the Yarra River, at the Docklands, Federation Square, and Southbank and the CBD.  There are also parties and events in suburbs close to the city as South Yarra, Fitzroy, St Kilda, Port Melbourne and Richmond.
There are free events provided by the city, including live music and fireworks.  The fireworks are a major attraction and now attract crowds of 600,000 – 750,000. In Australia it is the second largest New Year's Eve celebration. Some aspects you might like to take into consideration when selecting your 2016 NYE event are: can you see the fireworks with the location if that is what you want at midnight; price of tickets; and accessibility.
Melbourne is the events city and there is no bigger event than New Year's Eve and Melbourne does it so well.  And we have the details of the best New Year's Eve events for you right here. We will bring all the details of the best NYE events in Melbourne as they become available.
New Year's Eve Melbourne events
LOCATION
VENUE
EVENT
FROM
COMMENTS
Abbotsford

The Terminus Hotel

Old School Cool NYE Party

$120

 4 hour retro inspired food and beverage package. Old School Song Requests
Docklands

Waterfront Venues

NYE H2oh! HARBOURSIDE

$140

Lots of music, great views of the fireworks and many, many options.
Docklands

Platform 28

Platform 28 NYE

$100

5 Hour Food & Beverage Package. LIVE DJ Music.
Docklands

Harbour Kitchen

Masquerade New Years Eve Party

$135

5 hour food & drink packages. Great DJ Music. VIP Packages.
Docklands

Watermark

New Year's Eve

$135

5 Hour Drinks and Fingerfood Package. DJ Music. Stunning Views.
Docklands

Victoria Star Cruises

NYE Dance Cruise 2016

$150

5 hour Cruise. Cheap Drinks. Substantial Fingerfood. Fireworks View.
Melbourne

The Wharf Hotel

Endless Summer NYE

$140

5 Hours Drinks and Finger Food, LIVE music.
Melbourne

Campari House

All That Glitters Is Gold New Year's Eve

$100

2 Packages with 4 Hours of Beverage. DJ Music. Early Bird & Group Discounts.
Melbourne

Young & Jackson

Celebrate New Year's Eve

$15

Entertainment Across 3 Levels. VIP Dinner & Beverage Package available.
Melbourne

Spice Market

The Party NYE

$40

One venue, two sounds. Drink on arrival and roaming food.
Melbourne

European Bier Café & Aer Rooftop Bar

80's New Year's Party!

$135

7 Hour food & drinks package. 4 Levels of Entertaiment. 80's Theme.
Melbourne

Little Red Pocket

Masquerade "Little Collins Street" Party NYE

$110

5 hours of unlimited basic spirits, wine, sparkling and beer, gourmet Japanese platters. Includes access to The Irish Times.
Melbourne

Marrakech

Marrakech New Year's Eve Party

$85

5 hour all inclusive package. DJ Music.
Melbourne
Xiang Club
New Year's Eve

For all Melbourne NYE booking details including Ticket Early Bird Special, make sure you checkout www.newyearseve.com.au/melbourne/

Melbourne

Terra Rossa

New Year's Eve in Venice

$135

 3 course dinner with matched wines including drink on arrival.
Melbourne

Riverland Bar

Riverland New Years Eve

$120

Finger food and drinks package
Melbourne

Pilgrim Bar

Pilgrim New Year's Eve Party

$85

Set menu dinner or cocktail party packages
Melbourne

State of Grace

NYE Cotton Club

$150

Dining and Party Packages, 5 hours of drinks, LIVE entertainment.
Melbourne

Byblos

James Bond New Year's Eve

$155

Premium drinks package including Cocktail & Spirits with substantial canapes.
Melbourne

Turf Bar

New Year's Eve at Turf Bar

$0

Drinks Specials. DJ Music. Prizes for Best Dressed. Free Entry.
Melbourne

Platform One

Event Embassy present Welcome 2016 Platinum Party

$100

5 Hours Unlimited Drinks. 2 Themed Rooms
Melbourne

Duke of Wellington

New Years Eve

$120

4 hour all inclusive drinks and canapés package. Party across 3 levels.
Melbourne

Eden

Club Ministry presents New Year's Eve 2016 Beach Party

$100

5 Hour Unlimited Drinks Package. Huge line up of DJs
Richmond

Precinct Hotel

Midnight in Morocco New Year's Eve

$115

6 hour food and beverage package, LIVE music and DJ.
Richmond

The Bridge Hotel

A Haunted House NYE

$120

4 1/2 hour food and beverage package. Open to 3am.
South Wharf

Melbourne Public

90's New Year's Eve

$135

Food and drinks packages (dinner or canapes) LIVE bands and DJs.
South Wharf

The Boat Builders Yard

New Year's Eve

$130

Incredible view of the fireworks!
South Wharf

World Carnival NYE15

New Year's Eve Carnival Party

$195

Five different parties in one sensational location!

To see the NYE events posters with all details for these Melbourne New Years events, make sure you checkout Melbourne New Year's Eve

South Yarra

Temperance Hotel

James Bond New Years Eve SPECTRE Party

$25

Cocktail and Canapes on arrival, DJ entertainment.
South Yarra

The Emerson

New Years Eve at The Emerson

$85

2 Packages on offer. Includes beverages and entertainment.
Southbank

World Restaurant & Bar

Midnight in Old Havana – New Years Eve

$185

2 packages on offer both with 5 hours of drinks included.
Southbank

Fabrique

Club Ministry present Outrageous New Years Eve

$110

4 Hours of Unlimited Drinks including Premium Spirits, Beers + More. DJ Entertainment.
Southbank

P.J. O'Brien's Irish Pub

New Year's Eve Mad Hatters Party

$35

Mad Cocktail on arrival, LIVE music and DJ
Southbank

Ludlow Bar & Dining Room

New Year's Eve

$65

2 fabulous dining packages or a VIP Cocktail Party
Southbank

BearBrass

Le Parti de Paris New Year's Eve

110

20 min Yarra Cruise and a 3 course French inspired menu
Southbank

Hophaus Bier Bar Grill

Silvester Nacht New Years Eve

$65

Cocktail Party or Dinner Packages, Schanpps on arrival, DJ music.
St Kilda

29th Apartment

Hollywood New Year's Eve

$95

4 Hour Premium Beverage Package. Canapes. DJ Music
St Kilda

Miss Fitzy's

Roaring Twenties New Year's Eve Party

$150

LIVE performers and DJ's. Premium Drinks & Canapes throughout the night.
Chirnside Park

Yarra Valley Lodge

New Year's Eve Vinyl Revival Party

$105

2 Course Dinner + Dessert. Vinyl DJ. Accommodation Available.
Mornington

The Rocks Mornington

New Year's Eve Dinner

$110

Share Dinner Menu. Fresh Local Seafood. Great Views.
Melbourne

Long Room

One Night in Paris

$60

French Inspired Canapes. Complimentary Drink. Entertainment. VIP Package Available.
St Kilda

Riva

Riva NYE 2016

$119

Main Act Stafford Brothers. VIP Tickets include 2 hours Premium Bevergaes an Food.
Docklands

Alumbra

New Years Eve Passport to Brooklyn

$75

Fireworks View. Entertainment. Complimentary Drink and Food.
Melbourne

Ms Collins

NYE with Ms Collins featuring Miguel Migs

$80

Internal Fireworks Display. Entertaiment. Complimentry NYE Cocktail and Street Food.
Docklands

Shed 14

Promiseland New Year's Eve

$65

Fireworks & Waterfront Views. Costumed Performers, Fire Twirlers, Dancers & more.
Melbourne

Blue Diamond

Blue Diamond NYE Masquerade

$145

Canapes + 4 Hour Beverage Package. LIVE Entertainment.
Melbourne

Bobby McGee's

Bobby McGees's NYE

$195

5hr beverage package. Premium Canapes. Entertainment. Accomodation Add On Available.
Melbourne

Taxi Kitchen

Madmen NYE

$185

5 Course NYE Menu. Entertainment. Prizes for Best Dressed Table
Melbourne

The Village

New Year's Eve Night Garden

$140

All Inclusive Food, Drinks and Entertainment.
Melbourne

Melbourne Central Lion Hotel

NYE Carnivale

$25

Roving performers and heaps of giveaways.
Melbourne

The Langham

New Year's Eve Package

$795

Luxury accommodation and watch fireworks from pool deck.
For all the best event details for New Year's Eve in Melbourne make sure you click thru.