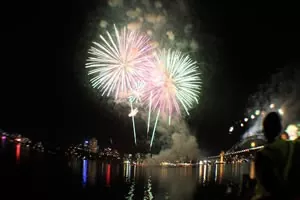 The Sydney NYE experience is heralded as one of the best New Year's Eve celebrations in the world. We call it One of the Wonders of the New Years  World. Sydney's NYE party is held on and around the iconic Sydney Harbour. The Sydney Harbour Bridge (or coat hanger) is a key centre attraction for the Sydney fireworks display. Sydney puts on two New Year fireworks displays plus the Parade of Lights. What is there to do in Sydney for New Years Eve? For the public there are free events and there are also ticketed and packaged events.
Some celebration events are on the boats on the water while others are around the Harbour in Sydney venues and restaurants. Where ever you are in Sydney on 31st December it's sure to be fun!
New Year's Eve Sydney events
There are so many things to do for New Years Eve in Sydney to see in 2021. The details of things to do for ideas on NYE fun events in Sydney for 31st December 2020. We've got all the details on the bets events for what's on Sydney NYE.
EVENT
VENUE
LOCATION
FROM
TIX
COMMENTS
New Year's Eve Cocktail Party

Campbell Stores

The Rocks

$350

Indulge in a spectacular NYE Cocktail Party with iconic views of Sydney Harbour. You'll be treated to an offering of substantial gourmet canapes, 6.5 hours of premium drinks and DJ entertainment all night long. Plus superb views of the Sydney NYE Fireworks spectacular from your vantage point on the 2nd floor.

NYE Darling Harbour Party

Cargo Bar and Lounge

Sydney

$29

A sensational New Years awaits in great location. Featuring local and international entertainment. General and All inclusive VIP party options to see in 2019! Hurry for first release!

Sydney New Year's Eve Dining

City Extra

Circular Quay

$470

Awesome Harbourside restaurant location with spectacular views to the Sydney NYE fireworks and party celebrations. 4 Course NYE Dinner. All inclusive packages with no more to pay. Package price includes all beverages all night – sparkling, beers, wines, spirits, cocktails, soft drinks, juices, teas and coffees. Absolutely no extra costs. Families welcome and kids under 18 are only $200. Great live entertainment to see out 2019.

NYE in the Park 2020

Victoria Park

Sydney

$129.90

Come celebrate New Years at Sydney's most anticipated NYE festival. Be entertained by an extensive line up of awesome acts, including headliners Hermitude & Girl Talk.  See in the new year of 2021 treating yourself to food and drinks from bars and food stalls.  All this, plus an exclusive midnight NYE Sydney fireworks show.  If you and your group are looking for something more VIP, then the fabulous Garden Party and Sky Deck Experience Packages are also available. Be quick! Just announced: The Jungle Giants have been added to the line up.

New Year's Eve Banquet

Campbell Stores

The Rocks

$850

Experience a 3 course banquet from the ground floor terrace with Iconic Sydney View. This Family Friendly event includes a 6.5 hour premium drinks package, DJ entertainment and Dance Floor plus spectacular views of the Sydney NYE Fireworks.

NYE Margarita Mansion Takeover

Bungalow 8

Sydney

$29

A-Tonez & Helena Ellis headlining on NYE in Sydney. Awesome location on Sydney's Darling Harbour to welcome in the New Year 2020. Various packages including First Release and VIP Balcony inclusive packages.

New Year's Eve at All Hands Brewing House

All Hands Brewing House

Sydney

$75

Awesome Sydney NYE Fireworks views. Multiply ways to celebrate New Years at this great venue on Darling Harbour. 2 Course Dinner Package. Family Friendly. Public Bar with No Cover Charge. Be quick!

New Year's Eve

Beer Deluxe

King St Wharf
Free

Celebrate the start of a New Year with a BBQ in the Beer Garden and a craft beer in hand at Beer Deluxe. Enjoy LIVE music and of course a curated tap list featuring some exciting brews. FREE entry. Book a table to secure you spot.

NYE Cocktail Party Roaring 20's

The Sydney Boulevard Hotel

Sydney

$289

Incredible 180 degree Sydney Harbour Views of the Sydney NYE fireworks. This superb Sydney New  Years Ever Cocktail Party consists of a package with canapes and free flowing drinks from 8pm. This fabulous party with Roaring 20's theme is  Family Friendly.
The party also included Live Music to help you dance your way into 2021.
NB: NYE Accommodation options as well so be quick!

A Roaring Twenties NYE

Sir Stamford

Circular Quay

$499

Roaring Twenties Themed NYE. Includes superb 5 hour drinks package and international food stalls. Casino Table Games. LIVe entertainment. Champagne at Midnight plus NYE fireworks views. Accommodation also available. Be quick!

'Creating Memories' New Year's Eve 2020

6Head Sydney Restaurant

The Rocks
$680

A Brand new 2019 Sydney Restaurant on the water at The Rocks with incredible location and views for the Sydney Fireworks.  Full NYE restaurant dining package. There are VIP options but hurry as Tickets are selling fast. NB: This event is Family Friendly!

NYE Party

The Argyle

The Rocks

$42.59

Dance into 2020 with lots of fun and special headline Yolonda Be Cool. Live dancers and performers. Dance and House DJ's. Kiss 2019 goodbye.

New Year's Eve at L'Aqua

L'Aqua

Sydney

$255

Normally Multi Course NYE Dining including Drinks package. Darling Harbour New Years Fireworks Views. Family Friendly Event.
Harbour Party New Year's Eve

Luna Park

Milsons Point

$129

LIVE entertainment. Unlimited Luna Park Rides. Spectacular Sydney NYE Fireworks Views.
New Years Eve at Q

Q Station

Manly

$239

Boilerhouse set 6 course degustation celebration dining packages. Fantastic views of Sydney and Manly New Years fireworks. Family friendly.

New Year's Eve at Portside

Portside Sydney Opera House

Sydney

$795

Exclusive Sydney NYE Views. Iconic location at Sydney Opera House. NYE packages usually includes Free Flowing Drinks, Exquisite Food and Entertainment.
New Year's Eve Sydney

Guylian Cafe

Circular Quay

$495

Guylians delicious New Years Eve 2020 while watching the Sydney NYE fireworks at Circular Quay.  5 Course dining with matched wines. Family friendly. Great location.

Sydney NYE Cruise

Harbour Spirit

Sydney Harbour

$795

Cruise in luxury this New Years Eve 2020 on Sydney Harbour. All inclusive. No kids. See the fireworks aboard this fabulous catamaran.

Harbourview New Year's Eve 2020

Taronga Centre Ballroom

Mosman

$495

Family friendly Sydney New Years Eve dinner party overlooking the magnificent Sydney NYE fireworks over the splendid Harbour. Multi course dinner and with beverages and cheaper childrens tickets.
NYE Dinner at the Harbour Rocks Hotel

Harbour Rocks Hotel

Sydney

$500

Fireworks Views from Rooftop Balcony. Uninterrupted Views. Offers usually include NYE Dinner or NYE Canape Packages.
Home NYE Sydney

Home

Darling Harbour

$35

Headline Entertainment. Eight Bars, Seven Dance floors. VIP rooftop packages available for Sydney NYE.
NYE Opera Gala

Sydney Opera House

Sydney

$199

NYE Gala performance. NYE Restaurant Packages usually include Pre-Dinner and Midnight Party Upgrade Options. Fantastic Fireworks Views, Close to the Action.
New Year's Eve at Dockside

Dockside

Sydney

$195

Typically offer a Traditional Greek 3 course NYE menu with premium beverage package and amazing views of the Sydney New Years fireworks. Family Friendly.
Sydney New Years Eve 2020

Royal Botanic Garden Sydney

Sydney

$335

Five fantastic Sydney New Year's Eve locations. Great options for everyone.
New Year's Eve Dining

Aqua Dining

Milsons Point

$995

Special New Years multi-course restaurant degustation menu including unlimited beverages. First class seats to the NYE Sydney fireworks display. Welcome 2021 in style!

NYE Sydney Cruise Party
Silver Spirit
Sydney Harbour
$1200

Sydney NYE Cruise.  Gorgeous 60ft timber cruiser. All inclusive food and drinks NYE package.

New Year's Eve Sydney Cruises
Sail Australia
Sydney Harbour
$175
Many NYE Cruise options. See in 2021 on Sydney Harbour with perfect views of the Sydney New Years fireworks. Lots to choose from.
NYE Party
Manly Wharf Hotel
Manly
$30
DJ fun sets and special views of Sydney Harbour.
NYE Dining at Sake
Sake at The Rocks
The Rocks
$150
Full A La Carte Menu. Minimum Spend after 8pm. Typically includes a complimentary glass of sparkling at midnight. Great location at Sydney's Rocks area.
New Year's Eve Pier One
Pier One Sydney Harbour
Sydney
$599

Live music, street-food style stalls and bubble bars. All Inclusive NYE package food, drinks and entertainment to welcome 2021. Great location Harbourside.

New Year's Eve Dining 2020
Hard Rock Cafe
Darling Harbour
$179

3 course dining packages at the Hard Rock Cafe. Then see the Darling Harbour Sydney New Year's Eve fireworks. Family friendly packages for all ages. Be a Rock Star this NYE.

Aria Signature NYE
Aria
Sydney
$1350
Incredible Sydney NYE tasting menu to delight your taste buds into 2021. Awesome location to see the fireworks. Drinks flowing and canapes to begin this special evening.
New Year's Eve Dinner 2020
Taronga Centre Terrace
Mosman
$595
NYE Restaurant Dinner Packages. Fantastic Fireworks Views. Entertainment.
New Year's Eve in Style
Buckley's
Sydney
$395
Live Music. Drinks and Canapes Packages. Stunning Sydney NYE Fireworks Views.
Tex Mex New Year
El Camino Cantina
The Rocks
$79

Tip your sombrero and melt into your margarita this NYE. Food & 2hr beverage package. House DJ. Pinata. Fun assured at this Mexican themed New Years party. And head out to see the Sydney NYE Fireworks.

Sydney New Year's Eve Fireworks Cruise Boats
Sydney Harbour Escapes
Sydney Harbour
$400
Many different NYE Fireworks Cruise options and packages to celebrate New Years Eve Sydney 2020 in style. Tickets cruise options for adults and for families. And also charter cruise options for your own NYE party.
New Year's Eve Dining
Rossini at the Quay
Sydney
$380
All Inclusive New Years Restaurant Dinner and Drinks. Fantastic Fireworks Views. Family Friendly.
Sydney New Year's Eve Restaurant
Ripples
Milsons Point
$795
Multi-Course Dinner. Unlimited Beverages. View of Sydney Fireworks.
NYE in the City
The Morrison
Sydney
$80
Awesome energy in this venue for New Years fun. Great food centred around the Oyster Bar. So you can dine gloriously with 3 courses. And then dance the year away.
Ballroom NYE Cruise
Ballroom Cruise
Sydney Harbour
$850
All inclusive Sydney NYE Cruise. Watch the Sydney New Years fireworks to see in the new year.
New Year's Eve Party Cruise
Galene
Sydney Harbour
$650
Sydney New Years Charter cruise. All inclusive food and beverages (excl Spirits). Part of Harbour of Light Parade (TBC).
Sydney NYE Cruise
Fusion
Sydney Harbour
$650

6 Hour NYE Sydney Harbour Cruise. All Inclusive New Years Celebration with food & drinks. Fantastic fireworks views. Family friendly.

Celebrate New Year's Eve at Studio
Studio Sydney Tower
Sydney
$725

Unparalleled views of Sydney Harbour NYE fireworks. All Inclusive New Years Celebration dining package. 6 Course Degustation Menu with Matching Wines. Why not book a New Years table dining experience for 10 friends?

NYE Seafood Restaurant Dining
Doyles on the Beach
Watsons Bay
$185

Exquisite seafood dining restaurant celebrating NYE with a 3 Course Dinner. Panoramic Sydney and Sydney Harbour fireworks 2020 views. Family friendly for this special event. Beverages separate.

New Year's Eve Restaurant Dining
The Cut Bar & Grill
The Rocks
$119

Dine in and then head off to the Sydney NYE 2020 Fireworks Display. 3 Course Choice Menu. Kids Menu Available.

New Year's Eve Party
New Hampton Hotel
Kings Cross
TBA
Treat yourself to some great NYE fare at this Central Sydney location.  Always offers some fantastic food and celebrations drinks for welcoming the new year. Updated details expected December 2020.
For all the best event details see New Year's Eve in Sydney.
New Year's Eve Sydney Packages
Many of the Sydney NYE venues and cruises have inclusive packages. The inclusions may be food and drinks and show. But your should read all the material on the various options. Many of these operators they will provide discounts for early bird purchases or first release ticketing. It can be advantageous to be organised and have your planning sorted. It's important to note that many of the Sydney NYE parties and events do sell out, such is the demand for the Sydney NYE party.
Around Sydney the restaurants, hotels, cruises, cafes and bars light up with superb NYE dining and entertainment options. Some of these NYE events will be a priority for many people and are in demand very early. Bookings can be swift so hurry.
Sydney NYE as a Focus for Tourism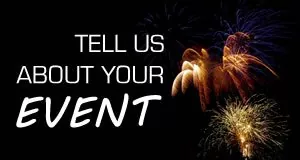 The Sydney NYE festivities are held in the Australian Summer and many tourists make plans to attend this major event. There are a high proportion of international visitors as many holiday makers come down under. Sydney is such a fun place and the NYE activities certainly add to that. It's interesting to note that a lot of tourists come to Sydney just for the NYE celebrations. So who knows who you might meet this NYE.